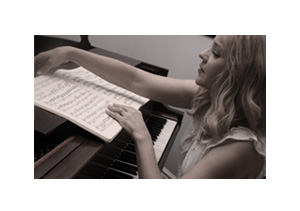 For years I dreamed of the day I would have my own grand piano, and finally I saved the money to buy one, have it refurbished, and make it mine. Although it was only supposed to take a few months to be restored, it ended up taking a year and a half to be completed, and, well, as these things go, it was delivered the same week I delivered my son. Anyone who knows anything about how busy a baby can keep you knows that I didn't get to play my piano much for months. Even when I did get to play, my son didn't like it, and as soon as he could talk would say, "Stop playing, Mommy." I guess he likes to have my full and undivided attention.
But I can't stop playing. Music is one of my greatest passions, especially music that sings of God's goodness. I love to sing with other believers and am grateful that I've had the opportunity to lead groups throughout the East Coast in meaningful worship. When I lead, I strive to incorporate biblical and creative elements that inspire a fresh response to God. My educational background, which includes a doctorate in Christian history, and a seminary degree in music and worship, gives me a lot of tools to draw on when I lead a service or teach workshops on worship.
I live in Somerville, Massachusetts, a short walk from the subway, and can see downtown Boston from my backyard. Sometimes I get to lead worship at my home church, Hope Fellowship in Cambridge, but only if my husband, Jeff, is there to keep my son busy. It sure would be embarrassing if he yelled out, "Stop playing, Mommy," in the middle of a service.